Technical Management Services' 360 Assessment Process
TMS has conducted hundreds of 360 Degree Assessments using a multi-dimensional, numerical rating questionnaire.  For many years we have delivered powerful and impacting feedback to participants of these surveys in one-on-one telephone and face-to-face discussions as part of developing individualized Personal Development Plans.  Technical Management Services administers the 360º Feedback Assessment electronically to peers, subordinates, customers, and bosses. We collect and evaluate feedback data prior to each coaching session so the results can be discussed and used during the session to maximize value to the participant and influence the development of a Professional/Leadership Development Plan (LDP).
Each time TMS administers the 360-survey to a new group, we analyze the results not just for the coaching session for each individual, but also for any trends we see in the specific organization as a whole. We report any trend analysis to appropriate leadership as desired by the customer.  This is another benefit of one of many of TMS' copyrighted processes used to ensure the 360 process reaps maximum reward and return on investment for the organization.  The memory pneumonic we have given our extensive 360-survey process is GS-CARE.
Get the list of survey affected personnel
Send a 360-survey that is tailored to the organization
Collect surveys in a manner that encourages participation
Analyze results for the benefit of the participant and the organization
Report result thoroughly to the participant and collectively to the organization
Evaluate training program for needed adjustment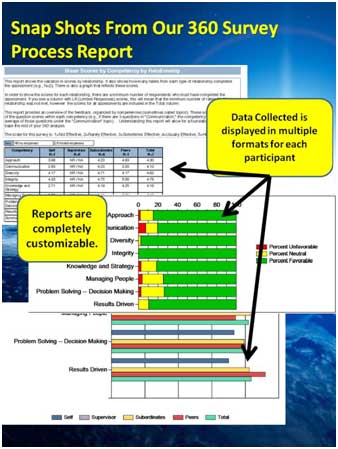 Upon request, TMS sends out the instrument link to a web site for participants to access and participate at their convenience within a specified timeframe.  The on-line software scores, compiles, and produces reports for participants. These results will be provided to both the participant and the assigned TMS certified coach. The assigned coach then provides a detailed and confidential interpretation of results at a time convenient for the participant. The one-on-one review and discussion of the 360 degree feedback will ensure the participant understands the results and develops an action plan that will illustrate what steps need to be taken for individual and professional development.